Happy Hikers Community Impact
The Sun Prairie Happy Hikers strive to make on impact on their community.
Past projects have included:
Making snow globes and delivering them to the Sunshine Place
Making and delivering greeting cards to the nursing home
Making "May Day" planters and delivering them
Planting & maintaining a flower bed at the Carriage Hills Park
Holiday gift giving to Porchlight
Clothing drive for Cards Closet
Wrapping gifts for Santas Without Chimneys
Christmas carolilng at the UW Rehab Hospital
---
Corn Fest Ice Cream Booth & Animal Tent
Mark your calendars for the 2018 Corn Fest (August 16-19).
Look for the Happy Hikers ice cream booth and petting zoo at Corn Fest. And, the club also participates in the parade.
---
What does a typically meeting look like?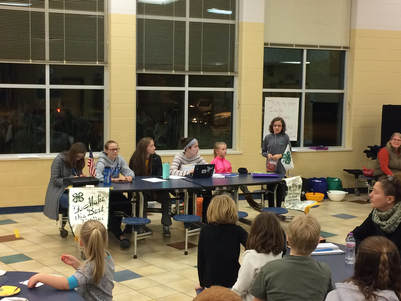 There are officer reports, member presentations, snack and a large group activity.


Cloverbuds have separate gatherings at the same time as the older members. Their time is spent with a project or activity; then they join the older members for snack and the large group activity.

---
---
Meeting Time & Location

Typically the 1st Monday of the month.
Meetings are held at Creekside Elementary.
Meetings are typically 7-8pm.

2017 Schedule

​Wednesday, August 16 @ 6pm (Angell Park Pavilion)
Monday, September 11 @ 7pm (Creekside Elementary)
TUESDAY, October 3 @ 7pm (Creekside Elementary)
Monday, November 6 @ 7pm (Creekside Elementary)
Monday, December 4 @ 7pm (Creekside Elementary)
Monday, January 8 @ 7pm (Creekside Elementary)

---
---
Who can join Happy Hikers?

Happy Hikers 4H Club is for anyone in the Sun Prairie, WI area. You can be interested in animals, other projects, presentation or community service.

There are two group distinctions in 4H:
Cloverbuds = Kindergarten thru 2nd grade
Traditional 4H = Grades 3-12.

How much does it cost?

Membership Fees:
$25 (3rd-12th grade) for the first member
$1 each additional member (3rd-12th grade)
$1 (Cloverbuds)

Discounts:
If the member and (1) parent work the Corn Fest booth, then the fees are dropped to $1.

How do you join?

Come to a meeting and check it out.
If you enjoyed yourself, fill out the enrollment link and then pay the membership fee to the Membership Leader (Amy Draper) at the next meeting.

Enrollment deadline is November 1st.
You have until March 1st to sign up for your fair projects.

Attend at least 4 meetings per year to enter projects at the Dane County Fair.
Prepare a short presentation of the member's choice to the club or take part in a sub-committee (3rd-12th grade).







---